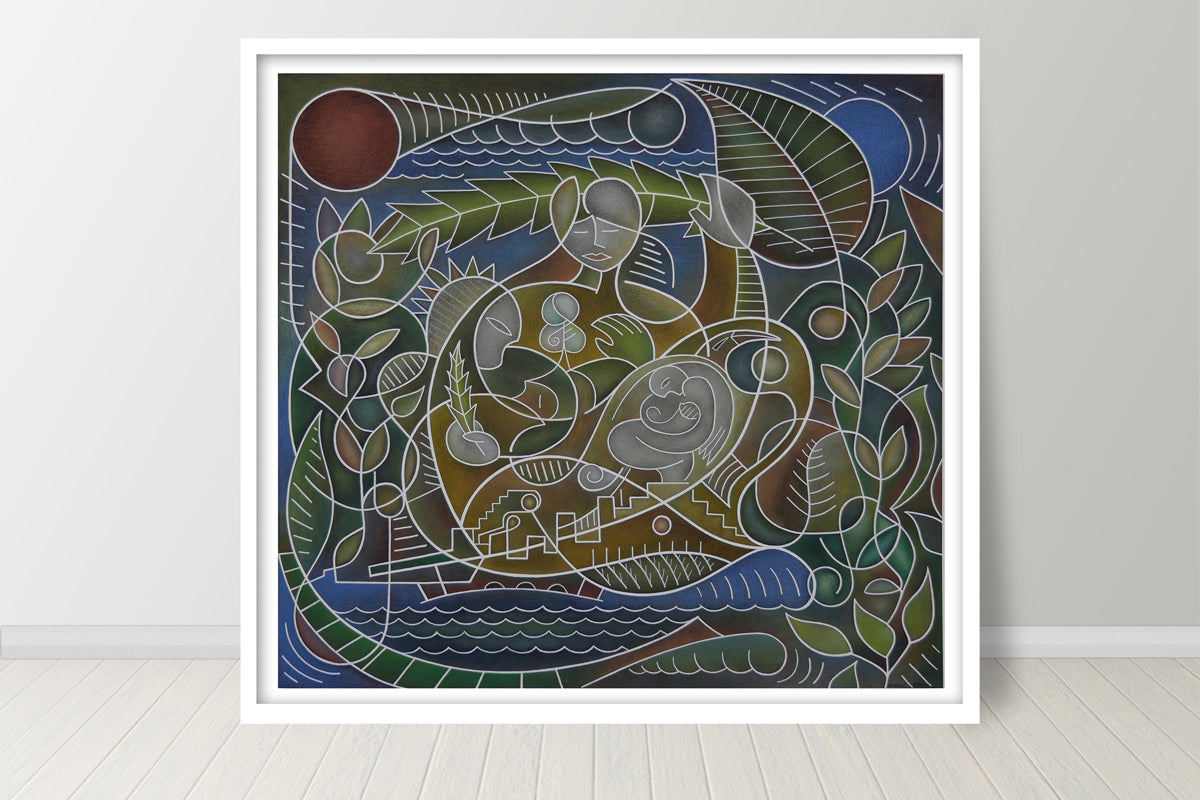 The Soul's Dance: Exploring Morphic Resonance, Quantum Mechanics, and Synchronicity in Shaping Our Reality
The baseline inspiration for 'New Life' was the news we received in December 2021 that we would be welcoming two new babies into our extended family in the summer of 2022.  As many first-time grandparents would tell you, this was quite amazing. I hadn't ever really considered myself as a 'grandparent' before; I still consider myself very much a 'work in progress'. Apparently one can do both. In any case, miraculous nature of the announcements soon superseded all such sundry vanities and I found myself wanting to fully explore this experience, specifically the intricate interplay between our souls, psychic reality, and the physical world.
Early sketch for 'New Life', December 2021.
The original basic sketch for 'New Life' is a simple abstract line drawing of what appears to be a nurturing female figure. This was just a impression of an idea, quickly done and just as quickly set aside as I was working on other projects. But as time went on I found myself reflecting on the process of how life comes to be, with the sketch serving as a kind of visual touchstone. At a certain point, probably in March or April 2022, it became apparent that it was time to start consciously developing the sketch into a fully realized piece.
Phoebe
Where Do We Come From?
The theories of morphic resonance, quantum mechanics, and Carl Jung's theory of synchronicity offer fascinating perspectives on how the human soul actively participates in the formation of its own psychic and physical reality.
Morphic resonance, proposed by biologist Rupert Sheldrake, suggests that there exists a collective memory or field of information that influences the development and behaviour of living systems. Similarly, quantum mechanics suggests that at a fundamental level, disparate aspects of reality are interconnected and, in fact, a result of consciousness itself.
These concepts hint at the idea that our souls, as individual manifestations of consciousness, interact with and shape the world around us through a subtle interconnectedness that transcends traditional notions of cause and effect.
Line drawing sketch for 'New Life', October 2022
From original sketch to completion in March 2023, these theories and thoughts, combined with the initial 'nurturing' aspect of the original sketch, formed the background thinking that went into the development and design of the drawing, 'New Life'.  
As for the other 'new life', at the time of this writing the kids are almost walking and ready to get into all kinds of mischief.  Being a grandparent is not a bad deal...